We all agree that the insurance business is there to help people who are really in need. It is interesting that most people are happy to buy insurance for their cars, house contents, and the like, but neglect the need to insure their own ability to earn.  The prices they pay for these insurance products are quite similar. However, the loss of the ability to earn significantly outweigh the costs of replacing a car and house contents. The numbers in the picture show that how big the risks the human beings are facing. Have you asked yourselves the question that how you are planning to manage risks?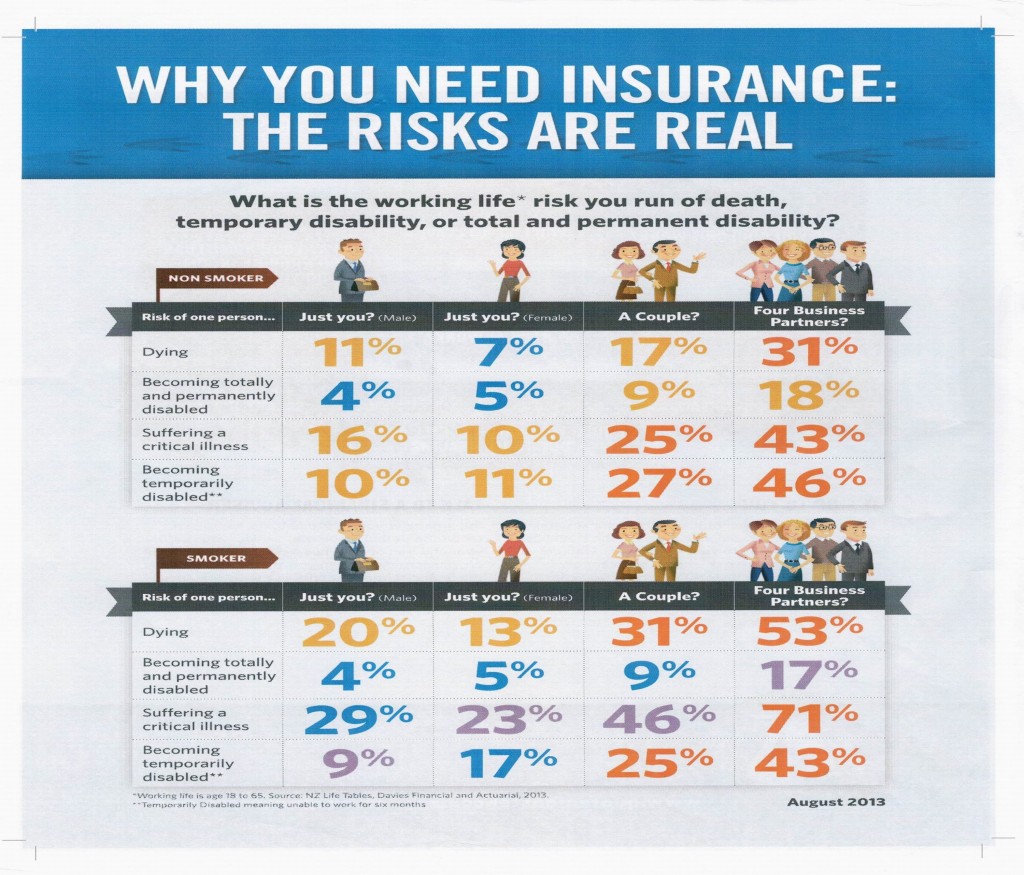 Buying:
It's best to contact insurance companies to arrange house insurance ahead of time as they may need extra information such as building reports, and if it's an older home, details of re-piling, re-wiring and new plumbing.
If you can't secure insurance before putting in an offer, consider inserting a 'subject to insurance' clause into the sale and purchase agreement so you can confirm before it goes unconditional.
Take the time to understand the different types of insurance available to you – in New Zealand you can get total replacement, sum specified, and present day value policies. See the Insurance Council of New Zealand website for more information – www.icnz.org.nz.
Selling:
If you are after a quick settlement, provide as much accurate information about your home's build and history to your real estate agent as possible to allow purchasers to organise insurance ahead of signing on the dotted line.
You will need to advise your insurance company of the sale, and provide details to them of the settlement date. You'll also need to continue covering the property with your insurance until settlement, even if you have vacated the house – if something were to happen on the day before the keys are handed over, the costs would fall to you.
Moving:
Many contents insurance policies do not cover your household items when they are in transit, so check with your insurance company if your policy does and, if not, whether they can offer extra insurance for the move. If you are using a professional moving company, most offer an insurance from the time they pack up your contents to delivery at your new home – something well worth considering in case of the unexpected happening en-route.
Renovating:
If you are considering any major structural changes to your house, then taking out contract works insurance is recommended to cover any potential damage caused during the renovation. Renovations such as replacing the roof, re-piling or redoing the kitchen can all be covered by such a policy.
However, be aware there are some exclusions within the policy, including faulty workmanship, so you need to ensure you have reputable professionals carrying out any work it covers.
David Wang
Westgate
Cooper & Co Real Estate Ltd – Licensed REAA 2008
Mobile: 027 535 3550
Office: 09 833 5588
Email: david.wang@harcourts.co.nz
davidwang.harcourts.co.nz